From the very start, it was the venerable Dr. Elizabeth Byrne who set the foundation for what would eventually become the office you see today. Although Dr. Elizabeth has long since retired, her passion for good dentistry and her unwavering commitment to patient care endures within these walls. The torch was later passed to daughter Cheryl and now to Dr. Alex – who has made it his solemn duty to honour the past while also looking ahead to the future. Although materials and techniques have become more modern, the core values of the office family have remain unchanged over the years – and that is to treat the patient, and not just the tooth. It is our firm belief at Beechgrove that all patients are part of our 'family'. As such, we pride ourselves in doing for our patients no less (or no more) than what we would want for ourselves. Healthy, functioning teeth. Simple.
Click here to read more about our team of professionals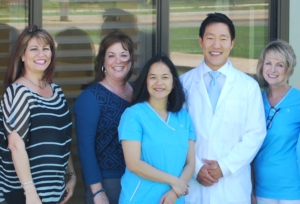 TESTIMONIALS
When I fell on my bicycle and chipped a tooth, I was so embarrassed. I thought I would have a broken smile forever. Thankfully, Beechgrove got me a crown for my broken tooth the very next day. My smile is complete again!
Beechgrove solved my snoring problem. It used to be that my wife couldn't get any sleep, it was so bad. My quality of sleep wasn't very high either. We were both exhausted. Now, with my sleep apnea device, we both sleep better than ever. Such a relief.